Genesis framework, a product by Copyblogger media has got lot of success. Because the framework became very popular among bloggers and website owners, developers have kept on launching Genesis child themes which are very easy to be used with this framework. There are many bloggers who're getting lot of traffic and they say that the best Genesis child themes have played an important role. These best Genesis child themes are useful as they are SEO optimized, responsive and one can easily work on these themes without having any technical knowledge. Make your blog get lot of traffic in the year 2015 and 2016 by going for a responsive Genesis child theme which impresses you the most.
As per me, Genesis framework makes a WordPress blog look perfect and navigating through the different posts and pages gets very easier for the blog readers. One of the reasons to prefer Genesis child themes is that these themes are responsive themes and that's why they make a blog load faster on smartphones and tablets.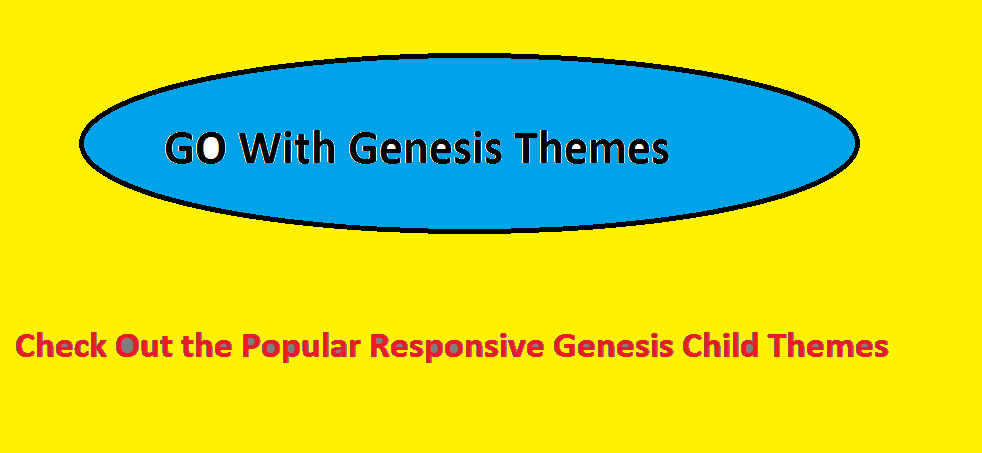 If you're not getting enough number of sales, then definitely it may be right time to purchase a Genesis child theme for your WordPress blog.
You'll be getting lifetime support with all these themes and even the updates are provided regularly for free.
Getting success with blogging is not an easy thing, but if you'll do everything perfectly then things may become easier. Having a good theme is one of the things which you can immediately do for getting a boost in your blogging journey.
Features of 8 Best Responsive Genesis Child Themes
1. Magazine Pro Theme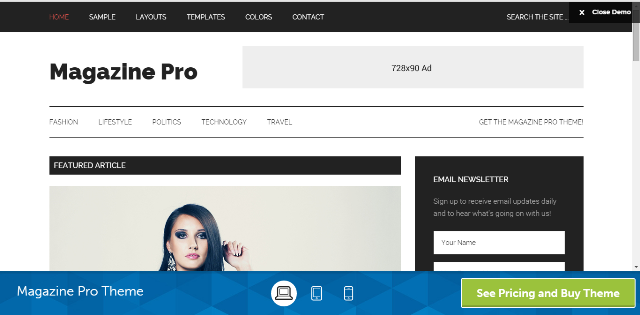 Magazine Pro theme is the perfect theme for all type of WordPress blogs. If you have a news blog, then you may definitely like this theme more than other Genesis child themes. Media-ready design and versatile layouts are the 2 pros of Magazine Pro theme. It makes use of stylish frame for providing the best look to your WordPress blog. 6 different layout options and 4 color styles are available with this magazine theme.
2. Lifestyle Pro Theme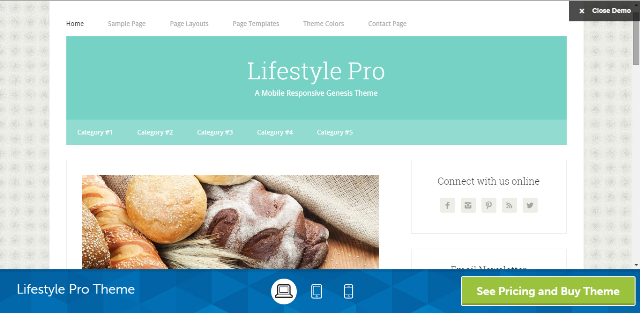 Lifestyle Pro is a highly flexible Genesis child theme. It comes with bright magazine-style frame and makes any blog look attractive. Smart layouts provided with this theme is something which you may not be able to find with every theme. It can be the most suitable theme for personal as well as lifestyle blogs.
3. Going Green Pro Theme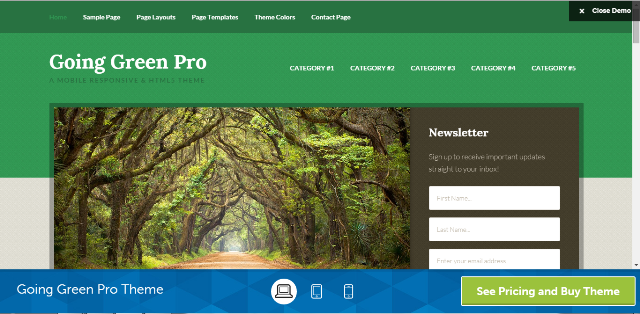 Going Green Pro theme with special green color is a very clean theme and if you're environment friendly, then you may definitely like to go with this Genesis child theme. Landing page template is provided with this theme. This theme may definitely make your blog or website look extremely different.
Check Going Green Pro Theme
4. Parallax Pro Theme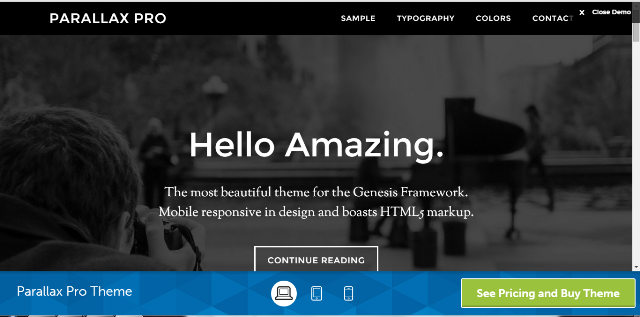 Parallax Pro is the theme which you can use for making your next website. It will help you in keeping your content in a narrative order. Content gets divided into different parts and there will be connection between them. It is a very special Genesis child theme with 5 color styles and custom background. Parallax scrolling is one of the best features of this theme which works on Genesis framework.
5. Eleven40 Pro Theme
Eleven40 Pro theme is very simple and at the same time functions in the best way. It comes with special intelligent design making it become mobile-responsive. Provided with 4 color styles and 6 layout options, Eleven40 Pro theme with HTML5 is the theme which you may like to try out immediately.
6. News Pro Theme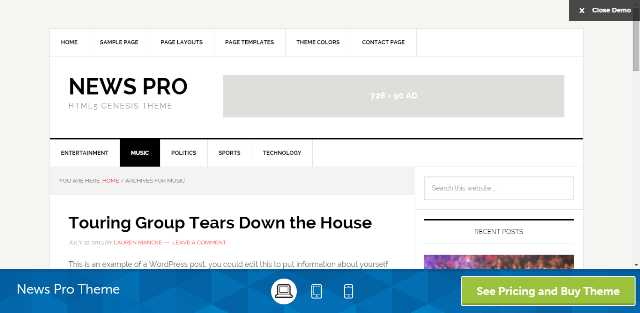 News Pro theme is the theme which I like the most and I think that it is the best theme for WordPress blogs focusing on content. It is definitely one of the recommended Genesis child themes. Simple navigation is something which you'll get with News Pro theme. It comes with 5 color styles and 6 layout options. Custom menu and other good features may definitely make you prefer News Pro theme over some of the most popular themes for WordPress. You'll definitely be able to make your WordPress blog load faster by opting for News Pro theme.
7. Executive Pro Theme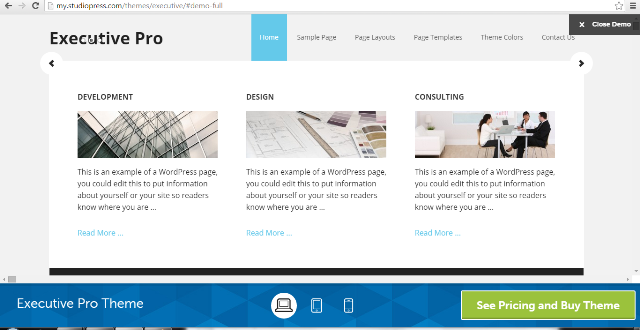 Executive Pro is an unique theme. It will allow you to display the important posts and pages at the front and center. If you're providing some service by making use of your blog for promoting it, then definitely you may like to go with Executive Pro theme. This theme may definitely help you in carrying your online business in a better way.
8. Modern Blogger Pro Theme
Modern Blogger Pro theme looks very stylish and that's why people consider it as a very unique Genesis child theme. It makes use of the styling options and colors in the best way. This child theme comes with 6 layout options. Check out the demo to know that whether this stylish theme shall be the best one for your blog.
Check Modern Blogger Pro Theme
Other Top Responsive Genesis Child Themes
I realized that there are some special Genesis Child themes which are suitable for a particular type of blogs/websites. This is the reason making me list out more themes. I'm myself now a fan of Genesis framework which motivates me to make others know about the themes based on this framework.
If you're someone who wants to promote yourself or products which you've developed, then you may definitely like to go with one of these themes. I'll be also making you know that they are suitable for which type of blogs.
It is good to see that theme developers now understand that some type of blogs require special layout and unique design. One of the reasons to switch to Genesis Framework could be the availability of these themes which are built as per your requirement.
9. Author Pro Theme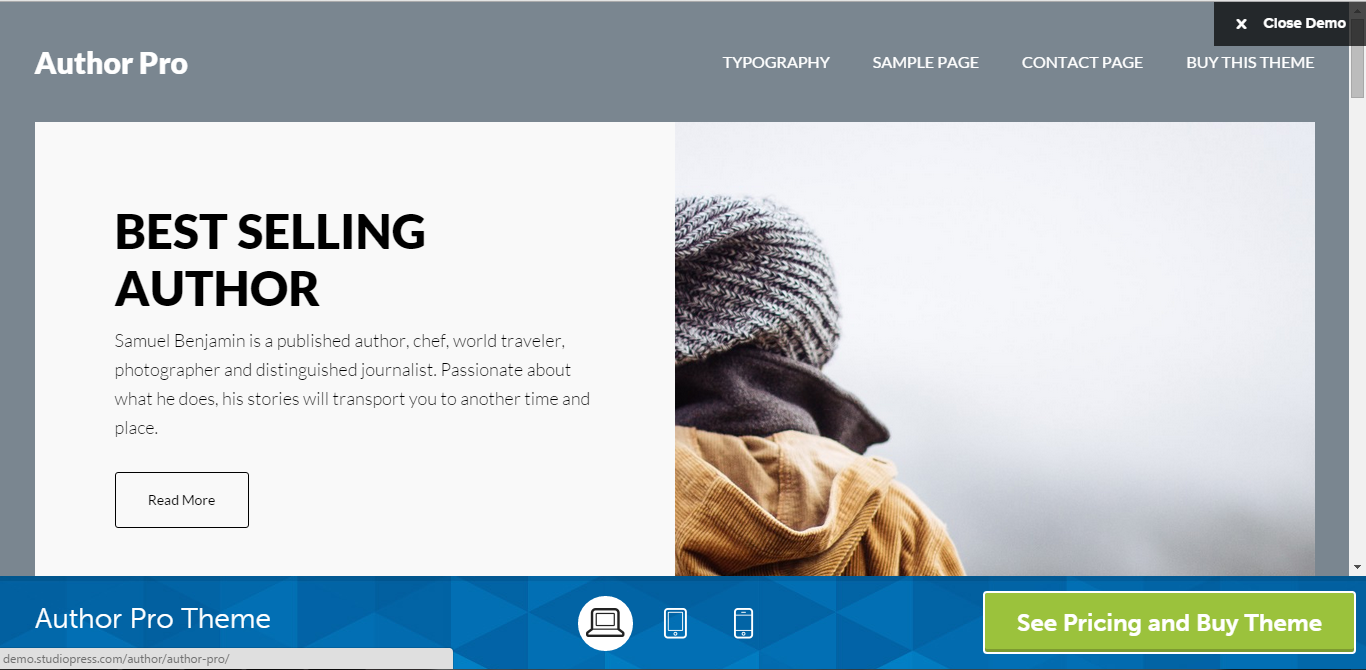 Author Pro is the perfect theme for authors who want to promote themself and also want to create their own library of books written by them. The combination of unique design and functionaility makes authors prefer this WordPress theme. If you as a author have not been able to find a good theme for showcasing your work, then the amazing features of Author Pro will make you immediately choose it for your blog.
If you're an author, then definitely I'll like you to make me know that whether this theme has been useful for you in making your readers become happy. Become the best selling author by making use of the best Genesis child theme for your online book library.
10. Mocha Theme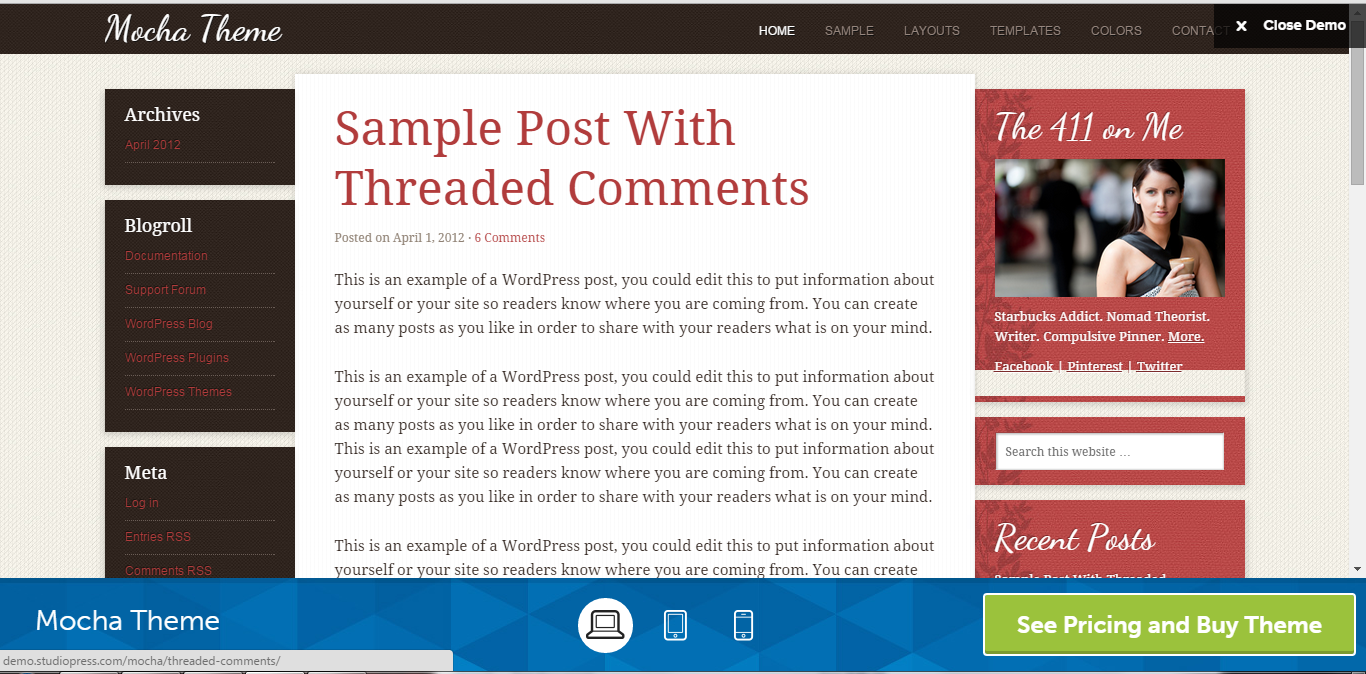 Mocha theme is a popular responsive WordPress theme among the fashion bloggers. It is suitable not only for fashion blogs, but also for music, beauty and other type of blogs which require special stylish design. Many may call it as as Genesis child theme with most stylish design. Color scheme is a special one and the layout suitable for fashion blogs is provided especially to make stylish bloggers become happy. Your blog visitors will keep coming again and again as the combination of your creativity and special blog design will make them get addicted to your blog.
11. Enterprise Pro Theme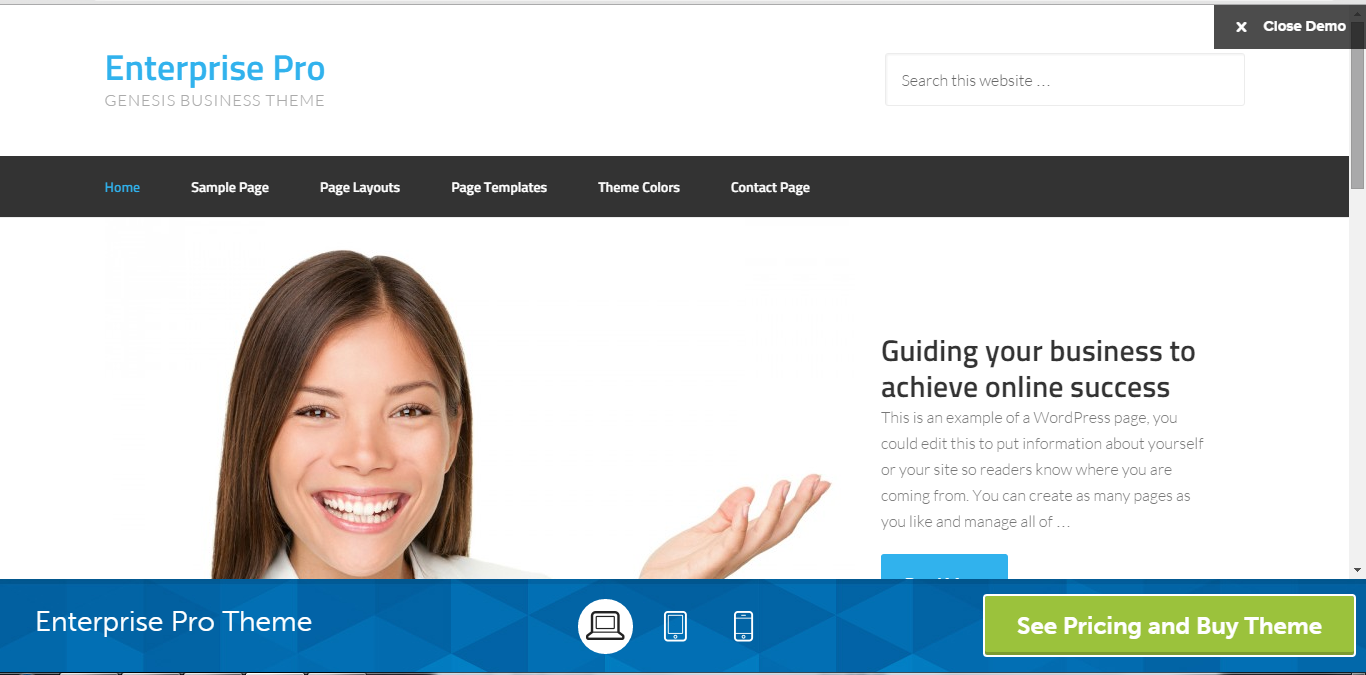 This theme is for those who are developing a special website or blog for promoting their business or service provided by them. Approachable design of this premium WordPress theme makes entrepreneurs choose it over the other business themes. You'll find that it is higly professional and will give your business the boost that you've been waiting for from a long time. Enterprise Pro is a theme which few company and business owners have been already using. They have been able to get success after they have switched over to this affordable Enterprise theme which comes at $99.95 only.
It comes with 6 theme colors and 6 layout options especially to attract those entrepreneurs who want to keep changing the look of their website.
12. Decor Theme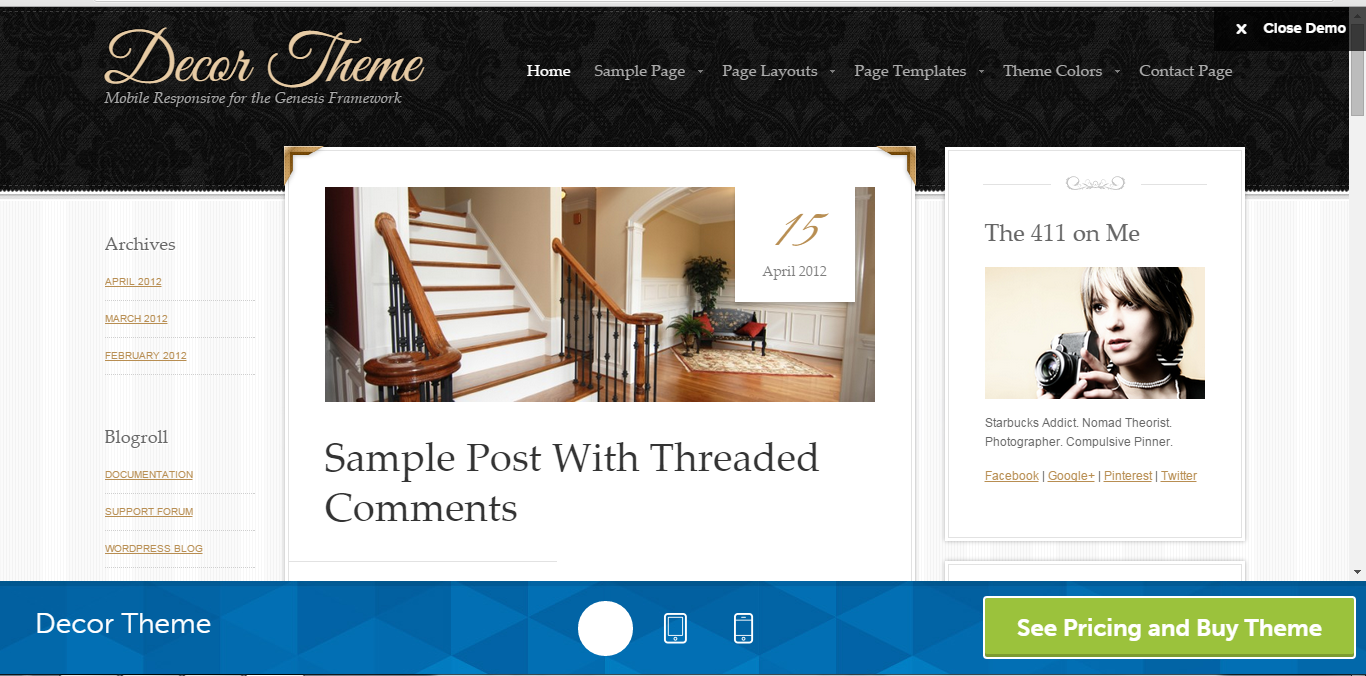 If you're someone who writes about furniture or interior decoration, then Decor theme shall be the perfect option for you. It is simple as well as looks very creative making it best for those who want to showcase their products. The sharp and mobile responsive layouts are liked by most of the bloggers who want to showcase their work in the best way. Do let me know that whether you also think that Decor theme can be useful in showcasing special products in an unique way.
Interior decorators are definitely going to love Decor theme as it may fulfill their requirement totally and that's why they may prefer it over the other themes.
I've just tried my best to cover some of the best Genesis child themes so that my blog readers won't have to waste their time in finding the most suitable theme for their new WordPress blog. Before going for a good paid theme, try to choose the best hosting for your blog.
Already more than 1,50,000 website and blog owners are making use of the Genesis child themes as Genesis framework has got very good reviews. Genesis framework has made many bloggers become very happy.
You can go for any one of these top responsive Genesis child themes just for $99.95. There will be no need to spend extra for getting the Genesis Framework as you'll getting it together with the theme. Do let me know that which Genesis child theme you have decided to buy for yourself. I'll be trying to make you know about more Genesis child themes as soon as possible. In the year 2015, these best Genesis child themes have been liked by most of the bloggers. We can expect that some more awesome Genesis child themes will get released in the year 2016. Which Genesis Child theme you find to be the best one?Do you think that every blogger should switch to a Responsive theme with new features?