Black Friday and Cyber Monday are the best days for purchasing new hosting for your current blog or to start a new blog. BlueHost is a very reputed hosting provider and it has got variety of hosting plans. BlueHost is offering discount up to 60% on this Black Friday and Cyber Monday. I shall make you know the original price and current price of the different BlueHost hosting plans as well as the detailed information about this special offer from BlueHost.
 Maximum Discount on BlueHost's Shared Hosting Plan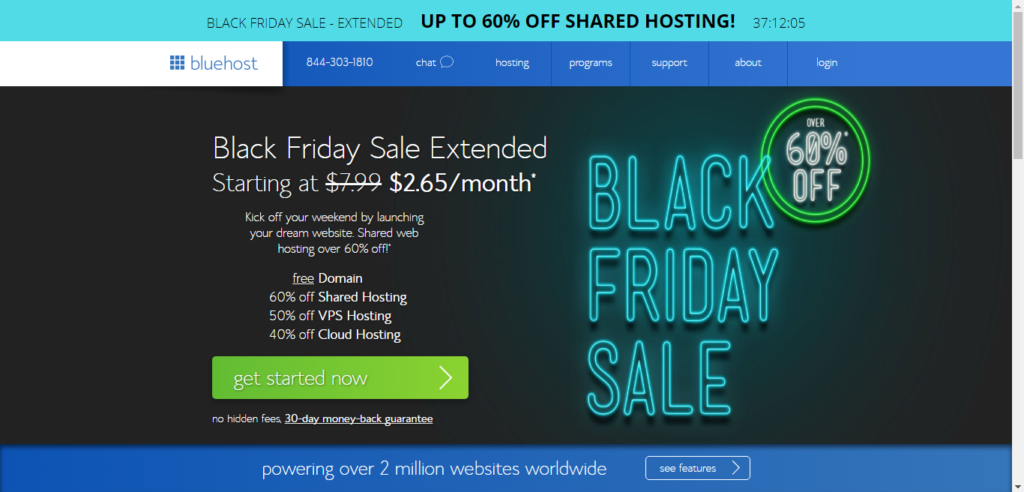 BlueHost understands that most new bloggers may opt for shared hosting as it is affordable. Understanding this, BlueHost is offering maximum discount on its shared hosting plan. The original price of shared hosting is $7.99/month, while currently after applying the 60% discount it comes to $2.65/month which is very affordable.
BlueHost's shared hosting plan comes with 30-day money back guarantee and you won't have to pay any extra price for BlueHost's shared hosting. BlueHost's shared hosting shall be a perfect choice for a new blog as a new blog won't require lot of resources.
 Good Discount on VPS Hosting and Cloud Hosting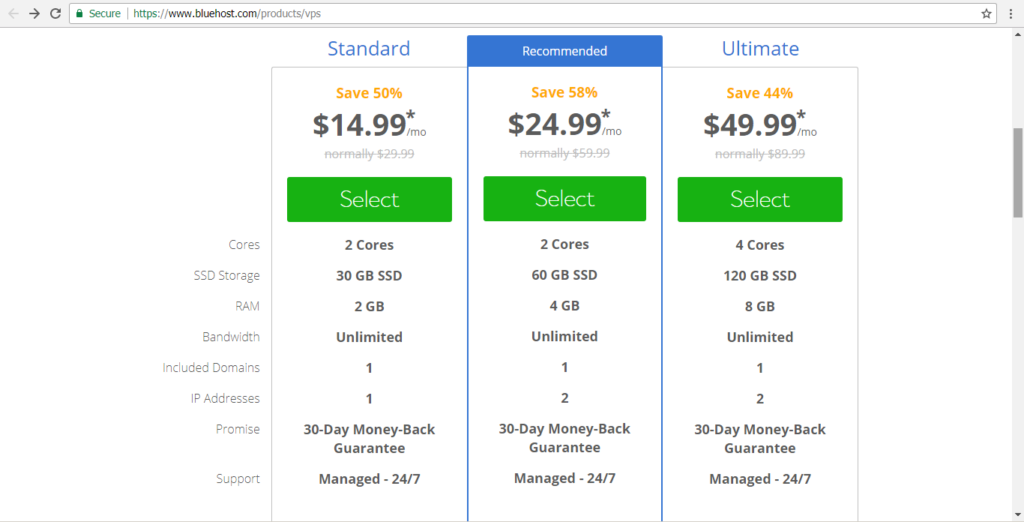 BlueHost is also offering good discount on VPS hosting and Cloud hosting. VPS hosting of BlueHost offers extreme performance as it makes use of open source technology. BlueHost's VPS hosting is very easy to use and you'll be able to use this VPS hosting for your blog immediately.
The Standard VPS plan costs $29.99/month, and under the Black Friday/Cyber Monday discount offer you'll be able to purchase it at $14.99/month. BlueHost is giving 58% discount on Enhanced VPS hosting plan, it is now available only at $24.99/month as compared to its original price $59.99/month. The Ultimate VPS plan can be availed at 44% discounted price which is $49.99.
The Starter Cloud Hosting plan of BlueHost which originally costs $9.99/month comes at $5.95/month. Starter Cloud hosting plan comes with storage space of 100GB only. Recommended and Business Pro Cloud hosting plans come with unmetered storage space. The Recommended Cloud hosting plan costs $8.95/month, while the Business Pro plan comes at $14.95/month.
 Why You Should Opt for BlueHost's Cloud Hosting?
Cloud Hosting has become a preference of many bloggers. Cloud hosting will make your blog safer than ever before. The benefit of BlueHost's Cloud hosting is that even if there is some problem, the website will keep working. BlueHost's Cloud hosting makes use of premium hardware and low-density servers making your blog work very fast. BlueHost's Cloud hosting is easier to use as you'll be able to check your blog's performance using the dashboard provided by BlueHost. Reliability and Security are the most important reasons making bloggers choose BlueHost Cloud hosting.
You can immediately purchase any of the BlueHost's hosting plan at the discounted offer using this link. Most of the bloggers are liking this special offer from BlueHost.
 50% Off On Long Tail Pro Tool
If you're starting your new blog, then you may also like to purchase Long Tail Pro tool as it is one of the most useful tools for bloggers. You can purchase Long Tail Pro at 50% discounted price immediately. This discount is available on all the plans of Long Tail Pro especially on Black Friday and Cyber Monday. Long Tail Pro will help you in knowing the best long tail keywords for your new blog, competition for the important long tail keywords and much more.
Long Tail Pro can be a perfect tool even for new bloggers as it will help them in knowing that which keywords they should target to get success with their new blog. You can read my detailed Long Tail Pro review as well as other guides to learn the right way of using this useful tool. It is really a good time for bloggers as such an amazing tool is available at half discounted price. Even many best WordPress themes are available at discounted price during the Cyber weekend.
BlueHost hosting is preferred by many bloggers from years due to the various pros and good support team. You can compare BlueHost's shared hosting plans with Hostgator's shared hosting plans as well some of the new entrants who're providing very affordable shared hosting plans. Do let me know that whether you're going to purchase a hosting plan from BlueHost.