Every person dream of creating a good website at an affordable price. Luckily, Wix is fulfilling this dream by creating both free and affordable premium plans, and an easy to use editor, to allow people to create stunning websites. Plus, Wix recently released an incredible design option to help make your website look even more stunning. Now, you can add vector art to your site! Wix is continuing to prove that they are a professional website builder that you can use instead of hiring an expensive developer. This post will show you how you can use vector art and other features of Wix to create an amazing website.
Vector Art Option Available with Wix Editor
Now using the Wixeditor you can add vector art to all of your pages.Once you build a website with Wix, you can easily use the editor to customize your pages. Adding vector art is a great way to make your website look more attractive. Many web design sites are talking about the popularity of vector art – they say that people love vector designs and that they are becoming more and more popular to see. If you think that your website is not noticeable, then you should definitely consider adding vector art to your site!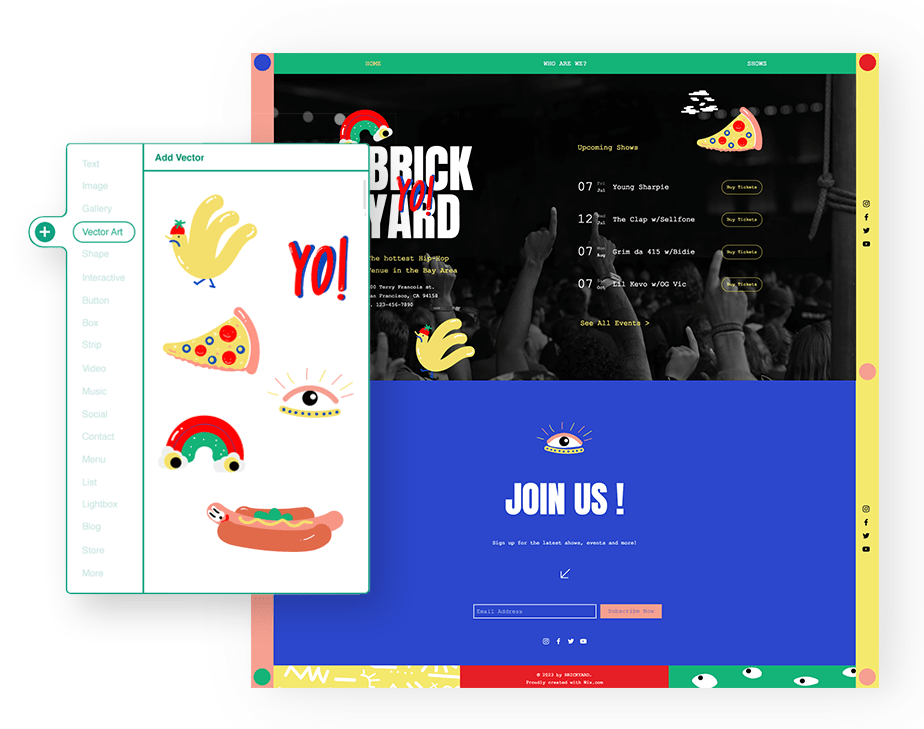 Vector graphics are handmade illustrations that you can resize and remodel to your choice. Wix gives you the option to combine and customize the vector illustrations according to your website's design. The resolution quality of vector designs stay the same as you resize the images. Regardless of whether it is tiny, or if it is large.
Wix has a huge collection of vector illustrations so you will be certain to find something that suits your taste. There are a variety of characters, animals as well as food and drinks – and all of these useful vector illustrations can be added using the Wix Editor.
Design Your Logo with Wix
Plus, If you're creating your website using Wix, then you won't even need to look for a logo designer. You can create a logo using Wix's new logo maker page. They will help you build your entire logo from scratch, including the design, colour and fonts. In the end, you can even decide how you would like to use your new logo. Maybe you only need for your site, or maybe you also want to print your logo on some promotional swag! It's entirely up to you.
Wide Variety of Options with Wix Editor
A special benefit available with the Wix Editor is that there is wide variety of options available so that you won't be disappointed. Wix is offering 500 designer-made templates and these flexible templates will allow you to create the type of website you want. You won't have to waste time searching for stock images as Wix provides the option to browse from millions of stock photos. Wix even offers various image and video backgrounds as they understand that creative backgrounds play a very useful role. If you're looking forward to create a website especially for showcasing your photographs, then you should know that Wix offers the option to showcase photos using 40 different unique galleries.
Nowadays when it comes to SEO, Google gives importance to websites having a mobile optimized version. Due to this reason, Wix gives the option to mobile optimize your website very easily.
Wix's amazing tools, apps and features, are some of the main reasons why people keep telling their friends to use Wix.
Make Use of the Wix Promo Code
You would be crazy not to build your site using Wix – as it brings in so many amazing options for those who don't want to hire a web designer. New users can now make use of the Promo code which is 'WIX10', and get the amazing benefit of 10% discount. New users should know that this discount is available only on yearly premium plans and applicable only for first-time upgrades and for the first year only. New users should definitely make use of this great option. Your wix promo code will help to make an already affordable website even more lucrative.
Wix regularly offers promo codes; as they want their new users want to make maximum utilization of the Wix website creator.
Wix is changing life of people who have decided to build creative websites using the Wix Editor. If you want complete freedom while creating a website for yourself, you should choose to go with the premium plan of Wix as you'll get all the options available. If you have used Wix before, share about your experience, and let me know whether Wix helped you to build a creative website.