We all bloggers want to get good traffic to our blogs, but it is not as easy as some people may think. Blogging is different from other online jobs as it requires lot of patience. You need to target the right keywords for getting more organic traffic. One of the ways to increase the organic traffic is by targeting long tail keywords. Long Tail Pro is one of the best keyword research tools which will help you in targeting the right long tail keywords.
Developed by Spencer Haws, Long Tail Pro is the keyword research tool which has become very popular among bloggers and internet marketers.
If you're getting less organic traffic, then one of the reasons for it could be the thing that you're focusing on short keywords having lot of competition.
Your blog can also get lot of organic traffic. You just need to choose the right keywords.
Long tail Pro tool will help you in knowing the long tail keywords which you should target for getting better search engine rankings and more organic traffic.
The right time to work hard is now and that's why you should check out the this review of Long Tail Pro for knowing all the features of this tool.
Up to 800 Results Per Seed Keyword
Long Tail Pro is liked by everyone because it is very easy to use and you won't have to waste your time in knowing the perfect keywords for your blog.
You can search multiple keywords at once with Long Tail Pro. This feature is not available with many other keyword research tools.
Whenever you'll search for any keyword, this tool will provide you with detailed result. It will make you know about different combination of keywords which you can try for getting more search engine traffic.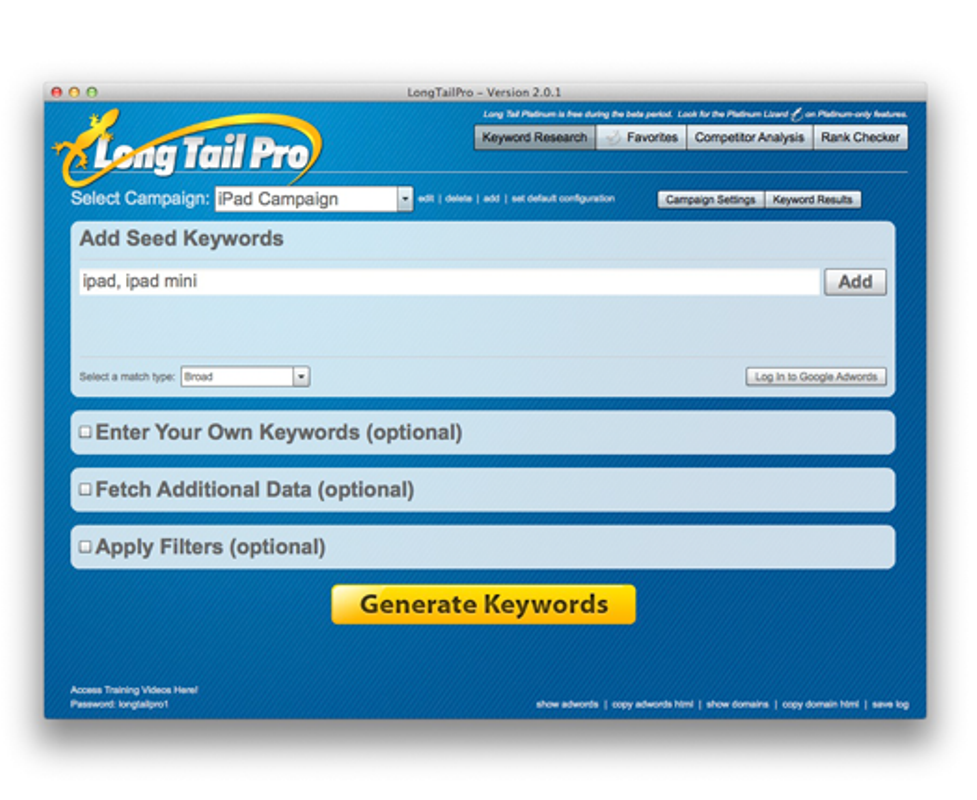 Analyze Competition Easily
Long Tail Pro is very useful as it will make you know about the competition that is there for particular keywords.
You'll be able to know the top 10 competitors for a particular keyword.
By knowing the competition and your competitors, you'll be definitely able to decide that whether you should target a particular keyword or not.
Whenever you'll analyze the competitiveness, you'll be able to know different details about the competitors.
Here are the details which you'll be able to know about your competitors
1. Keyword Competition
2. Page Authority
3. Page Links
4. Juice Page Link
5. Domain Authority
6. mozRank
7. Page Authority
Apply Filters for Finding the Perfect Keywords
One of the pros of Long Tail Pro is that it allows to apply filters which are helpful in finding the perfect keywords.
'Average Local Searches' filter is useful as by using it you'll be able to able to find keywords which can bring you good traffic.
If you're looking for keywords which can improve the CPC, then you can make use of the 'Average CPC' filter for finding the high paying keywords. This filter provided in Long Tail Pro tool may definitely help you out in monetizing your blog in a better way.
The most useful filter is 'Number of Words'. By using this filter you'll be able to find long tail keywords easily. You can search for keywords having around 4 to 7 words as then you may be easily able to achieve good ranking for such long tail keywords.
Long Tail Pro Tool Pricing
You can get 10 day free trial. By using the trial version of Long Tail Pro you'll be definitely able to understand that why people invest their money in this tool.
The One Time Cost of Long Tail Pro is $97 only. You won't have to pay any charges in future for using this amazing tool which helps in finding the perfect keywords.
Get Long Tail Pro By Paying $97
There is also a Pro + Premium version of this tool. The Pro + Premium version will provide you with some additional features which are as follows
Calculate Keyword Competitiveness in a Better Way
Import list of Keywords (up to 10,000 at once)
Create custom calculations from keyword results
Market Samurai is one of the competitors of Long Tail Pro tool. When you'll compare both the tools, you'll find that Long Tail Pro has better features.
You won't be able to search for multiple keywords at once with Market Samurai, while you can do this easily with Long Tail Pro.
Easy to use interface is also one of the reasons which makes people prefer Long Tail Pro over other keyword research tools. So if you're looking for a keyword research tool preferred by many bloggers, then you should try out Long Tail Pro immediately.
If you're thinking to build few niche sites especially to target some high paying keywords, then BlueHost Hosting can definitely be a good choice for hosting your niche sites.
I hope that this review of Long Tail Pro would have made you understand that why 'Long Tail Pro' has become an ultimate keyword research tool for many. You may immediately opt for the full time version by paying the price of $97. In future, I may try to make you know about some more keyword research tools which can definitely be very useful for you. Do share your opinion about Long Tail Pro by leaving a comment below this post.