How often you make spelling or grammatical mistakes? Most of us make some mistakes while writing content for our blogs or clients. We all definitely want a tool which can help us in correcting all the grammar, punctuation and spelling mistakes made by us. Grammarly is one of such tools which can definitely solve all the problems related to grammar, punctuation, vocabulary etc.
Actually, Grammarly is an online writing App that can easily monitor and check spelling and grammatical errors. It works much faster than the other tools which are available for checking grammatical mistakes.
I had very good experience while I made use of Grammarly. This is the reason that I'll recommend you to try out Grammarly.
If you're someone who really wants to improve as a writer, then you should immediately check out this review of Grammarly. It may be the right time to know about all the errors that you're making while writing content.
By correcting your mistakes from now onwards, you'll definitely be able to get better at content writing. You'll definitely try to not commit the same grammar and punctuation mistakes in future.
Why You Should Immediately Try out Grammarly?
We can't trust every tool that is built for correcting grammar mistakes, but Grammarly can definitely be trusted totally.
Grammarly is a tool which comes with the best grammar checking algorithms. The most amazing thing is that Grammarly is built by people who're the world's leading linguists.
As Grammarly is developed by people who have lot of knowledge about grammar, punctuation and vocabulary, you may definitely decide to go for it without wasting your time.
Different Functions Performed by Grammarly
– Find Outs and Corrects different type of Grammar mistakes. Grammarly can detect more than 250 type of grammar mistakes.
– It'll provide you with vocabulary suggestions. If you think that you're unable to write in perfect way, then definitely the vocabulary suggestions by Grammarly will help you out in becoming a better content writer.
– Plagiarism detector. It'll help you in knowing about any type of duplication. Grammarly will check your content against the texts available at most of the online websites.
– Grammarly detects Spelling Mistakes. Spelling mistakes may make your readers go away from your blog and that's why this function of Grammarly will help you out in the best way.
– Immediate Proofreading
How to Make Use of Grammarly?
You can make use of Grammarly instantly by copying and pasting the text that you want to be checked for grammar mistakes. Another amazing feature is that you can even upload your existing doc for finding out all the grammar mistakes that it contains.
If you're making use of Google Chrome, then you can immediately install the Grammarly extension for Chrome.
By installing the Grammarly extension for Chrome, Grammarly will start monitoring the grammar mistakes that you make while writing content at any of the following web platforms
– Twitter
– LinkedIn
– WordPress
– Gmail
– Tumblr
– Facebook
– And Many More Popular Websites
My Experience with Grammarly
I have myself tried out the free version of Grammarly. I first added the Grammarly extension to Google Chrome browser. After adding the Grammarly extension, I signed up at the Grammarly website.
After doing the required steps, I decided to try out how Grammarly works. I went to twitter and typed a tweet. I tried to make some mistakes to check out that which type of grammar mistakes get detected by the free version of Grammarly tool.
Check out the below image to know that how Grammarly detected a mistake in the sentence which I typed at Twitter
The free version of Grammarly has limited features, this is the reason that I may soon opt for the premium version of Grammarly.
How Much Grammarly Costs?
You can use the trial of Grammarly for free, but for getting all the features you'll need to subscribe for the premium version. Grammarly will make you become a better content writer, this is the reason that you may immediately like to subscribe for Grammarly.
The free version of Grammarly comes with 100 points of grammar, punctuation checks and contextual spellchecker, while the premium version comes with 250+ points of grammar, sentence structure, plagiarism detection, vocabulary enhancement and many other amazing features.
Here are the Different Grammarly Subscription plans available for you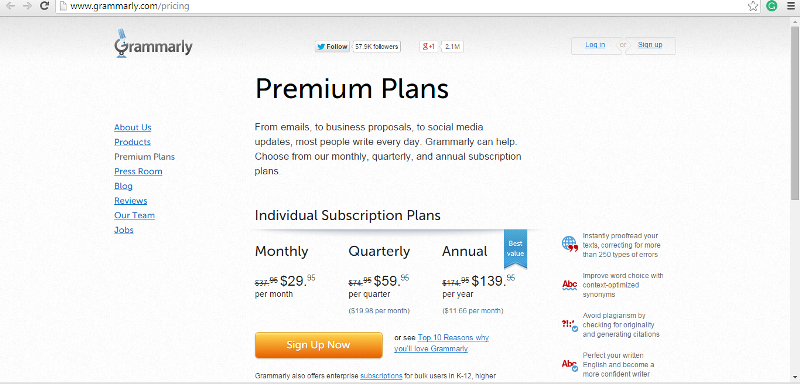 Monthly Plan at $29.95 per month
Quarterly Plan at $19.98 per month which'll cost you $59.95
Annual Plan at $11.66 per month. You'll be billed $139.95 for the annual plan of Grammarly.
Click to Try Free Version or Subscribe for Premium Plan
If you want to become a better content writer or want to earn more money from your freelancing business, then I'll recommend you to subscribe for the annual plan of Grammarly.
8 Best Reasons to Make Use of Grammarly Tool
1. Premium Version has got Different Editions
The premium version of the popular Grammarly tool has got different editions which are Business, Academic, Technical etc making it a tool which can be useful for all the people doing any type of business online. All types of content can get checked and corrected by making use of Grammarly tool.
2. Grammarly is the Perfect Tool for Writers
There is no need to spend many on any other tool as Grammarly is a tool provided with all the features which a writer may require. It won't only check the grammar mistakes, but also the spelling and punctuation mistakes. If you want to publish content free from all type of errors, then you immediately need to subscribe for premium version of Grammarly.
3. Making the Content Look Professional
Sentence structure and Vocabulary Suggestion are the 2 important features as it will make your content look professional. Sentence Structure feature will make sure that you're making use of the sentences in the best way. Vocabulary Suggestion will allow you to know the right words which you can use to diversify your writing.
4. Different Subscription Plans
Option to choose from monthly, quarterly and annual plan is also one of the reasons which has made Grammarly become the most popular tool among content writers and bloggers. Monthly plan is perfect for those who want to use Grammarly for one month only especially for some writing assignments. Annual plan is best for all those who want to make use of Grammarly for a long term to avoid mistakes whenever they're writing any type of content. The annual plan comes at $139.99 only which makes it affordable as the monthly plan subscription price is $29.95 per month.
5. Different Ways to Make Use of Grammarly Tool
The most amazing thing about Grammarly is that it can be used in different ways. One can install the extension available for different browsers which are Firefox, Chrome and Safari. MS Office Grammarly extension is a new option for all those who want to immediately know the mistakes while the content is been written. Windows Extension for Grammarly is the best one for those who want to completely integrate Grammarly tool with their computer system.
6. Building Reputation Online
Grammarly comes with very good grammar knowledgebase and that's why it makes a writer know all type of spelling, grammar and punctuation mistakes. If you always publish with your name, then you may definitely want to build your reputation online as a content writer. Grammarly will make you know all your mistakes which will make people fall in love with your content and ultimately you'll be building good reputation online.
7. Plagiarism Checker to Avoid Duplicate Content
You'll be to accepting more guest posts from now as there is a plagiarism checker provided with Grammarly. It will make you know that if the content provided to you has been already published by someone else. Plagiarism is not liked by Google, and that's why always make use of Plagiarism Checker whenever you're publishing content written by someone else.
8. Proving to be Better Than Other Writing Tools
Grammarly offers the best value for your money and you can trust it totally. It has got many good reviews and that too by some of the best bloggers worldwide. If the current paid tool you're using for checking Grammar mistakes has not provided you with enough satisfaction, then you immediately need to switch over to Grammarly.
Don't miss out the opportunity to subscribe for Grammarly tool as already many people are getting many benefits by using it.
Grammarly Review – Conclusion
Grammarly is definitely a very amazing tool to find out all the spelling, punctuation and grammar mistakes. It'll also improve your vocabulary. If you've still now not been able to find out a perfect assistant to help you in writing content, then Grammarly can definitely be the best writing assistant for you. Do let me know your views regarding Grammarly.