Multitasking has become a trend as many people believe that multitasking will help them in achieving more success in their life. Bloggers like multitasking as it allows them to manage multiple blogs and at the same time it allows many bloggers to manage a job as well as blogging together. Doing multitasking without getting stressed may not be easy. But by following the right tips and advice, you shall be able to do multitasking with ease and achieve the success that you deserve.
It is important to maintain emotional and physical health while doing multitasking. Multitaskers definitely need to bring some changes in their life so that they will always love their habit of multitasking.
Here are some tips which will help you out in doing multitasking without getting stressed.
Proper Planning
Multitasking is not that easy as you think.
For achieving success as a multitasker, you'll need to plan out everything properly. Setting up schedule for doing different tasks is always very useful. Many people even make a 'To Do List' as it makes them do the right tasks at the right time.
Multitaskers who don't make proper plans face failure. It is that's why important that you give time to plan out different things. At the same time, you should have the flexibility to change your plan for managing work more efficiently.
Never try to copy plan of others as every individual may have different way of working and he may feel more comfortable working in his/her own way.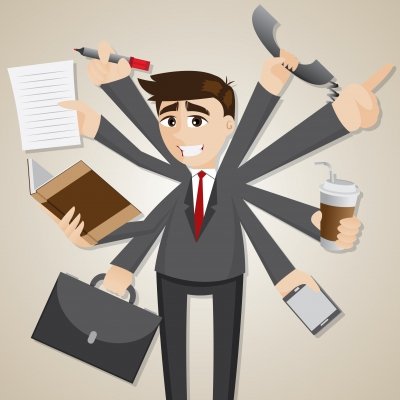 Image Credits to iosphere at FreeDigitalPhotos
One Task at One Time
Even if you're very fast at doing work, you should avoid doing two to three tasks at the same time.
By doing one task at one time, you'll be able to completely focus on that task and complete it at the right time. Staying focused is sometimes extremely important as then only a person can do a particular task with 100% perfection.
You should always try to shift to another task after completing the first one.
Always try to complete smaller tasks first as it will allow you to give more time for the difficult tasks.
Know Your Plus Points and Limitations
Even if you think that you can do every task in the best way, you too must be having some plus points and limitations like everyone else.
By knowing your plus points and limitations, you shall be able to delegate the right tasks to others.
This will also help you in giving more time to the tasks that are difficult for you and less time for the tasks which can be completed quickly.
Regular Breaks – Best Solution for Staying Fresh
For becoming more productive, you need to always stay fresh and ready to do any type of task.
Taking a break during the lunch time or after completing a difficult task shall make you feel relax.
Even small naps during the day may make you feel better and you shall be able to get work done more quickly.
Working continuously for hours without any break may make you feel exhausted and it may decrease your productivity. If you want to increase productivity, then you should learn to take breaks regularly at the right time without losing the focus to complete all the tasks.
Stay Motivated and Confident While Multitasking
Multitasking may make you feel bored as you'll always have the responsibility of completing different tasks in one day.
You shouldn't lose confidence and always stay motivated as that will make you work more efficiently.
People who always stay motivated are able to deal with the difficult tasks in the best way. Reading books, listening to music, playing your favorite sport are some of the things that you can do for staying motivated in your life.
Slow Down and Exercise Regularly
Daily exercising will make you feel more fit and active. Staying fit and active is a must for someone who has to do different type of tasks daily.
You should not only exercise regularly, but at the same time you should daily take out some time for meditation.
Meditation will help you in getting control over your mind which will reduce anxiety and stress. Following proper meditation techniques shall bring a complete change in your life and the stress level may reduce to a very good extent.
Even if you have a very busy work schedule, you need to daily give time for exercising and meditation as that will make you become better at multitasking.
Don't Set Very High Goals
If you're a multitasker, then you need to have the habit of setting realistic goals.
You can't achieve a lot just in a day as some things take time, this is the reason you should set goals which are achievable as per the time available.
Always try to evaluate the time that will be required for completing particular tasks so that you won't fail in achieving your goals.
Once you'll start achieving small goals that you've set, you shall be ultimately able to achieve all the goals in your life.
Plan a Vacation for Getting Refreshed
Even the people best at work need a vacation and that's why you too deserve to go for a vacation.
A vacation will allow you to get refreshed as you'll be getting the opportunity to visit the place of your choice.
Whenever you plan to go to a vacation, you should try to forget your work life completely as then only you'll be able to calm down your mind.
Many people who're doing very stressful job decide to go on a vacation at least once in a year as it increases their productivity and it automatically allows them to get to a higher position.
I hope that these tips will help you in doing multitasking without getting stressed. The increasing stress in life should be controlled as otherwise it can have many harmful effects. Multitasking will make you successful when done in the right way and you always need to keep improving yourself.