The most difficult thing for a webmaster is finding a good affiliate network. One of the main focus of every webmaster is revenue and that's why the search for good affiliate networks keeps going on. PixelAds Media is one of the new affiliate networks about which all the webmasters should definitely know. Publishers as well as advertisers both are joining PixelAds Media, this is the reason I thought to make my readers know some important things about this affiliate network.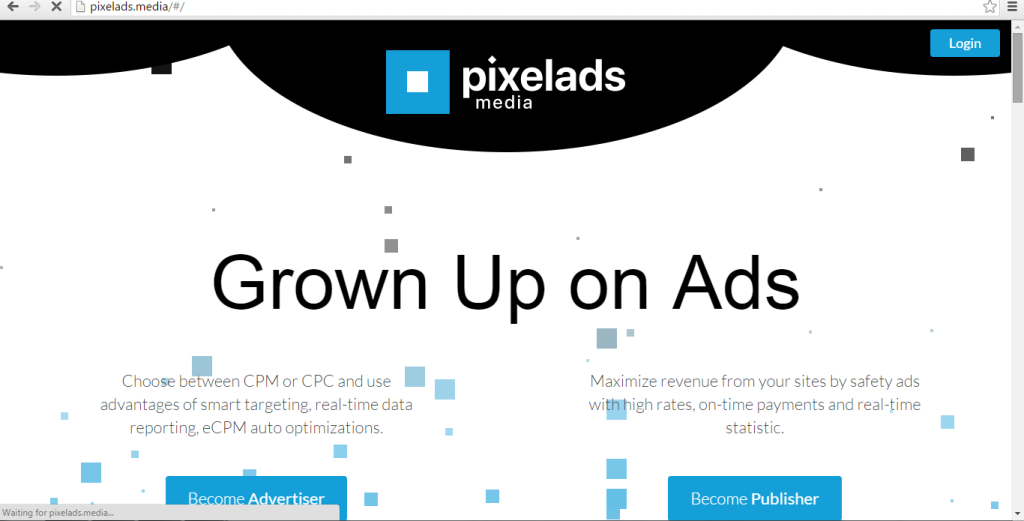 A Good Start for PixelAds Media
Before you get to know some of the other aspects, the most amazing thing is that PixelAds Media has got good success still now. It started few months back and already it is having good number of publishers and advertisers. The team running PixelAds Media believes in always improving the network for providing the best experience to the users. PixelAds Media has already started taking feedback from publishers as well as advertisers so that it can implement some changes for making PixelAds Media become the best affiliate network.
Personal Account Manager
High revenue is attracting publishers towards this affiliate network. It is aiming at global coverage by having publishers from different countries. The ads are safe and you'll definitely be having a good time with this affiliate network. It provides a personal account manager to every publisher and advertiser so that all the problems can be solved. You'll be able to get the best experience by interacting with the account manager and knowing the best features of this affiliate network.
Focus On Long-term Profitable Relationship
PixelAds Media has the focus on having more publishers as well as advertisers joining its network and at the same time it wants everyone to get complete satisfaction. Publishers will always have the best opportunity to make money as PixelAds Media believes in long-term profitable relationship. If you're having any suggestion for PixelAds Media, then definitely send an email to the PixelAds Media team.
Real-time Reporting and Useful Graphs
The reporting is real-time which makes all the publishers happy. When you'll login to your account and then go to the 'Statistic' area, you shall be able to find different useful graphs which includes Performance Graph and Quality Graph. Below picture will give you a good idea about the 'Statistic' page.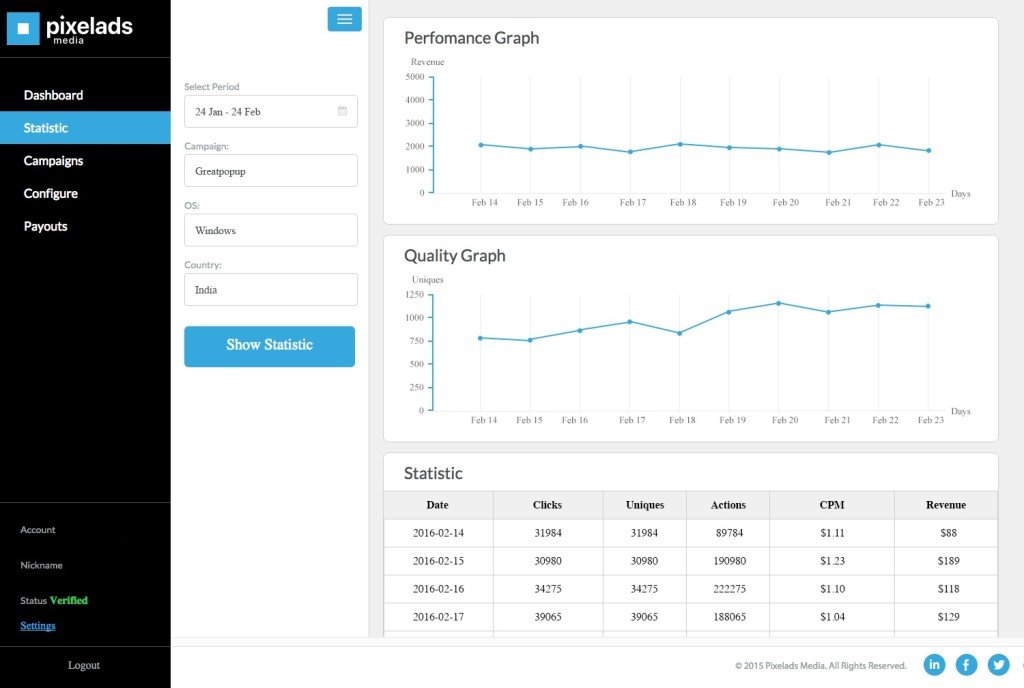 Easy and Flexible Payment Option
One of the most important things for any webmaster is the payment procedure. PixelAds Media believes in offering flexibility and easy payment option to the publishers. It that's why allows the publishers to request the payment whenever they want to and you can always ask any doubt to the dedicated account manager.
Paypal, Wire Transfer, WebMoney and the availability of many other payment modes makes the publishers become happy. Sign up as a PixelAds Media publisher now so that you won't lose the opportunity to make money from this affiliate network.
Advanced Targeting Option for Advertisers
Advertisers are allowed to go for CPM or CPA campaigns as per their requirement. The main benefit that PixelAds Media offers to advertisers is advanced targeting. The advertisers are allowed to select from Country/City Level Targeting, Browser/OS level Targeting, Keyword (contextual) Targeting, IP Range ISP level Targeting etc.
High CPM rate will definitely make you prefer PixelAds Media over some of the other affiliate networks. ShareAsale affiliate network is already a popular affiliate network and you should definitely join it too. If you have to make more money online, then definitely you should join good number of affiliate networks.
Even if PixelAds Media is a new affiliate network, you may definitely give it a try. The new affiliate networks are making use of the latest technology, providing better reports and providing more revenue to the publishers. Do let me know the type of experience you have with PixelAds Media so that all the blog readers will get more idea about this affiliate network.