LeadsGate is bringing a change in the world of affiliate marketing as it is offering up to $220 per lead on CPA basis. It is different from some of the other affiliate programs as it mainly focuses upon the US loan niche. If you're someone who understands the scope of US loan niche as an affiliate marketer, then definitely your search may end with LeadsGate affiliate network. The main motive of LeadsGate is to offer the highest possible payouts and it's trying the best for it.
This review of LeadsGate payday loan affiliate program will make you give a perfect idea that why you should try out this program immediately.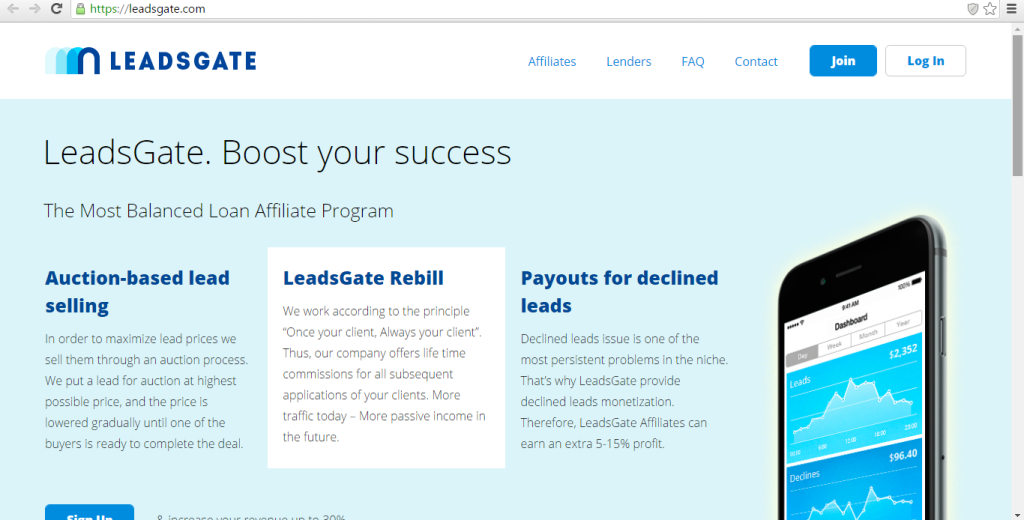 LeadsGate Believes in Quality
One thing which I really like about LeadsGate is that it believes in quality more over the quantity. Only those affiliates who already have very good traffic can join this network. It may disappoint those who have a blog with less traffic. An affiliate marketer can even join this affiliate program by having an invite for it.
If you're looking for an opportunity to join LeadsGate, then you can leave your email address at their website by clicking on 'Join'. If your blog meets the criteria, then the account manager will approve your application.
LeadsGate is providing equal opportunity to all the affiliates by allowing not only US based, but also non-US based affiliates to become to its member.
Another amazing thing is that it is the most balanced loan affiliate program as it has got auction-based lead selling. The lead for auction is set at the highest possible price. You'll find that this makes LeadsGate better in comparison to some other loan affiliate programs.
 LeadsGate Rebill – Increase Your Passive Income
LeadsGate understands that every affiliate wants more passive income as everyone has the goal of making more money online. LeadsGate Rebill solves this problem as now affiliates get commissions for lifetime. Affiliates get commissions for all the applications of their clients and this is now a very big advantage for every affiliate.
 Payouts for Declined Leads – Something Very Unique
One of the unique things about this LeadGate payday loan affiliate program is 'Payouts for declined leads'. Many affiliates face this problem which makes them frustrated. Understanding this, LeadsGate is offering declined leads monetization. Now affiliates can earn 5-15% more profits by making use of this advantage.
LeadsGate is also paying affiliates for referring the other potential affiliates. It pays 5% bonus and there are some special conditions which apply on the bloggers, premium partners and thematic communities.
 Personalized Support Service
Robot analytics and live reporting will definitely allow you to track your progress easily. If you're having any problem, then you shouldn't worry as there is 24/7 available personalized support service.
There are some affiliates who totally trust this affiliate network as it has implemented the best security and privacy system
The support team always tries to guide the affiliates without wasting their time as it values the time affiliates are giving for bringing more leads.
Easy Payment Option
LeadsGate makes payment once you have accumulated $100 in your account. Once you'll make the request for payment, you shall get it in 7 to 10 days which is depending on your account. PayPal, Wire Transfer, Webmoney, ePayments are some of the payment methods which LeadsGate is currently offering to its affiliates.
Affiliates can immediately join LeadsGate affiliate program and start making more money online. You can always contact their support team and get your queries solved so that you'll be able to maximize the scope of earning with your US traffic.
Every affiliate should definitely try out the payday loan niche by becoming a member with LeadsGate. Increasing number of affiliate networks is definitely bringing a big change in the world of affiliate marketing. Affiliate networks like LeadsGate are trying to offer the maximum advantage to affiliates as they want to work with these affiliates for a long term. Do let me know if you're going to try out LeadsGate affiliate program.