BlueHost is a hosting service provider which is popular from many years. For your info, BlueHost was launched in the year 1996. I have myself made use of BlueHost's shared hosting service for few months and that was for one of my tech blogs. I have found that BlueHost is reliable and one gets good support from them. If you're confused that where you should host your WordPress blog, then you should definitely go through this post of mine. By going through this review of BlueHost hosting, you'll be able to know about the customer support, pros and cons, types of shared hosting plans and other useful information.
After going through this BlueHost review, you may definitely decide to shift your blog to BlueHost. You'll get to know about different shared hosting plans at the end of this post.
BlueHost is Reliable
You may not like to invest your money in something which is not reliable. BlueHost is totally reliable as many bloggers are making use of their hosting service from long time without facing any problem.
BlueHost guarantees 100% uptime and you'll find that they are very close to what they guarantee. BlueHost is able to offer such type of quality service as it has got 3 datacenters of its own. Your blog will face downtime whenever maintenance is scheduled. Hosting companies for maintaining the quality and for bringing some improvements schedule maintenance regularly.
BlueHost is one of the hosting companies which offers SSH Secure Shell Access, while there are some hosting companies which still now don't offer SSH Shell Access.
Anytime Money-Back Guarantee
Another reason which will make you totally trust BlueHost is that you get money-back guarantee from them.
You can get full refund if you're not happy with the hosting service and the request for cancellation of hosting service is made within 30 days.
If you're not happy after using their hosting service for more than 30 days, then also you can get your payment refunded. BlueHost will refund you your money for the remainder of your hosting term.
BlueHost's Shared Hosting for Blogs with Good Traffic
Even if shared hosting provides unlimited bandwidth, unlimited disk space etc, then too there are some limits which apply to the shared hosting plans provided by BlueHost.
If you know how to optimize WordPress blog properly, then there will be no problem even if your blog gets lot of traffic daily. You can make use of CloudFlare and Cache plugins to avoid problems which can happen when you're using shared hosting for a WordPress blog.
Even technology blogs getting more than 30,000 to 40,000 page views can be hosted using the shared hosting provided by BlueHost.
If you yourself are unable to optimize your WordPress blog to handle lot of traffic, then you can definitely hire someone who has the experience of optimizing WordPress blogs.
Customer Support – Reason to Buy BlueHost Shared Hosting
BlueHost is trusted by people because it offers good customer support. If your blog is not loading or you're facing any other problem, then you can anytime contact the customer support of BlueHost for getting your problem solved.
If you'll face some problem using BlueHost hosting service, you can get in direct touch with their customer support by making use of 'Live Chat'. If you don't have the time to chat, then you can get in touch by sending them an email or you can even get in touch by making a call to their customer support.
As per what I have myself experienced and what I have heard, customers of BlueHost don't have to face any type of problem. If you'll face any type of small problem, then you can definitely get rid of it by contacting the customer support.
I'll give the rating of 4.5/5 to BlueHost's customer support service.
BlueHost is not only providing shared hosting, but it also provides VPS hosting, dedicated hosting etc. According to me, shared hosting is suitable for hosting WordPress blogs.
BlueHost Offers 3 type of Shared Hosting Plans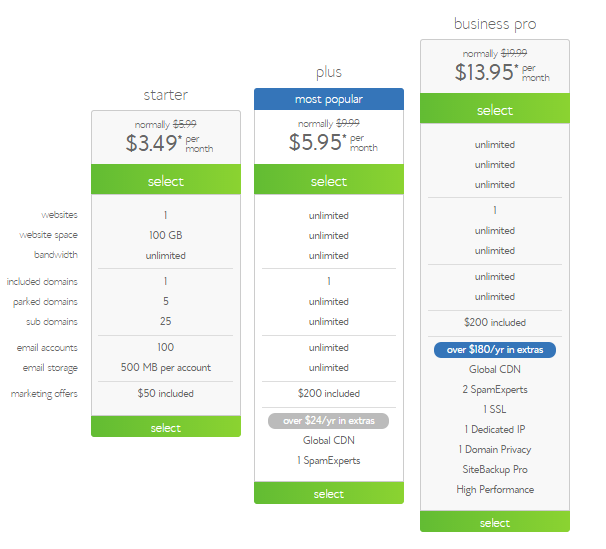 The first hosting plan is the Starter plan which comes normally at $3.95 per month. With the starter plan you can host one website only. You get unlimited bandwidth, but thw website space is limited to 100GB.
Second plan which is the plus plan is the most popular plan. Plus plan comes at $5.95 per month. With the plus plan you can build unlimited websites as you get unlimited website space and unlimited webspace. With the plus plan you also get extras which cost over $24.
Third plan is the plan called as Business Pro plan. With this plan you not only get unlimited webspace and unlimited bandwidth, but the most amazing thing is that you get extras worth $180. Extras include Global CDN, 1 SSL, 1 Dedicated IP, 1 Domain Privacy, SiteBackup Pro etc.
BlueHost now also offers Optimized hosting for WordPress. The optimized WordPress hosting plans start at $12.49 per month.
Buy BlueHost's Hosting Service
If you'll buy using the above link, then I'll be able to earn some commission. This will help me to give more time to my blog and write reviews of different products for my blog readers.
BlueHost Shared Hosting Pros
– Affordable Price
– 3 Type of Plans
– Free Addons which can be useful
–  AnyTime MoneyBack Guarantee
– Trusted Company from years
BlueHost Shared Hosting Cons
– Limited CPU Usage
– Sometimes the speed of websites is slow due to the excess load on server
BlueHost Review – Conclusion
After reading my review of BlueHost's hosting service and knowing the pros and cons, you must have definitely got a good idea that why people go for BlueHost's hosting service. Even if many new hosting service providers have entered into the market, still BlueHost is able to attract many new customers regularly. It is good to see that companies like BlueHost are maintaining the reputation by providing best quality service to its customers. What's your opinion about BlueHost's shared hosting plans? Did you like reading my review of BlueHost?